---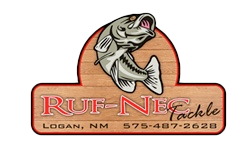 March 21st Main Lake Water Temp. upper 40s
The Lake elevation is 3774.11 Storage is 124,900 acre ft.
The Main Lake is clear.
We have still been at the mercy of the wind and weather for the past week but on the days that you can get on the water fishing is starting to pick up.
We had a couple of good Crappie this week. Darin Fikes, of Portales, had a nice bag that he caught with live minnow at night fishing under the lights. ( See Catch of the Week) There was also some Crappie caught in Ute Creek on Swim'N'Spin Spinners and Swim Baits.
Walleye are still slow but they are starting to come up and a few nice ones were caught over the past week, mostly on live minnows.
We didn't have any Bass reports over the last week but that should change this week.
Hereford Bass Club will host a one day open Bass Tournament Sunday, March 26th, from 7:00 AM to 3:00 PM. You can register early here at Ruf-Nec Tackle or at the Marina Ramp Sunday morning before 7:00 AM.
We have added a lot new items for this year, be sure and stop in, take a look, and share your fishing stories with us!
Until Next Week,
TIGHT LINES, GOOD FISHING, AND "MAKE 'EM BITE"!
Ben
FOR INFORMATION ABOUT TOURNAMENTS AND EVENTS
Catch of the Week