BEAUTIMUS BULLDOGS
Currently we have JR, our super gorgeous 7 year old. He is 50 pound male English Bulldog from Arkansas. Spoiled rotten and too smart for his britches! The best companion in the world, one you could only hope to be so lucky to find some day.
Cha Cha is our strong 6 year old big pretty 75 pound female. Strong headed, with a true mind of her own. Will plan a way to get what she wants-highly intelligent. Very protective- but a gentle giant around small kids.
Mayzell is JR&Cha Cha's baby girl. She is beautimus. Great with kids and as smart as her daddy. Who is teaching who what? She looks a great deal like her Daddy and acts like him too. She has a puppy streak along with a gentleness about her, too. In the picture on the left, Mayzell is 12 weeks. On the right she is 18 months. Mayzell will be the next female to breed in our line. We are now searching for a suitable partner for May-May.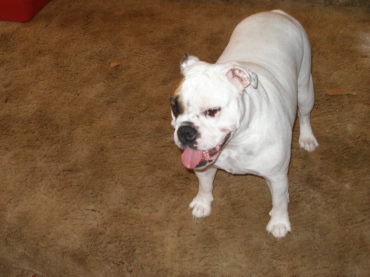 Our first litter was in February 2005. JR&ChaCha had 5 baby girls. Mayzell, Savanna Georgia Hot Pants Patterson, Echo, Nautia and Boogie Woogie. We get to see them quite often. They are wonderful puppies and we were very fortunate they all have great homes.
Cha Cha will have only one more litter. We will breed her and JR again in January 2006. We are hoping for a white male. We have been approached for stud service and we may do that next year also.
If all goes well, we may have puppies for sale in May 2006. We are not raising show dogs, so I will not register these puppies. They will be $1000.00 plus deliver charges. We will not sell one of puppies without an interview. All puppies will be vet checked and wormed before we will release them. We reserve the right to accept or not accept any or all applications for puppies. No Deposits will be taken until our puppies are 5 to 6 weeks old. You may inquire about them after they are born.
Christmas Ornaments
Click Here To See Our Christmas Ornaments On Ebay!

Email us at gkathy@plateautel.net
Phone - (505)487-2628
[Home] [Fishing Report] [Ruf-Nec Tackle] [Budget Rentals] [Beautimus Wonderment]
[G] [Benís Links] [Contact Us] [Beautimus Bulldogs]